WHO WE ARE
Express is a modern, multichannel apparel and accessories brand, as well as a go-to style destination. From wardrobe essentials to the latest trends, we design clothes for real-life versatility. Express is a brand with a purpose, powered by a styling community.
We Create Confidence. We Inspire Self-Expression.
OUR VALUES
EXPRESS YOURSELF

Bring passion, intention and conviction to your work. Be bold in your thinking and accepting of new ideas and approaches. Be straightforward and considerate in your communication. Share your professional aspirations with your manager.

EXPRESS TOGETHER

Encourage candor, invite dialogue and listen to points of view that differ from your own. Build trust and productivity within your team and across functions by assuming positive intentions and respecting subject matter expertise. Accept and respect each associate for who they are and how they contribute. Contribute your time and resources to the well-being of our communities and our planet.

EXPRESS SUCCESS

Recognize your role in delivering results. Understand what you must do—or what help you may need—in order to achieve your goals. Hold yourself accountable for the quality and consistency of your work. Offer and accept constructive feedback with kindness and respect.
ENVIRONMENTAL, SOCIAL & GOVERNANCE
Diversity, Equity & Inclusion

Our mission is to seek out, respect and embrace different experiences, approaches and points of view.

Giving & Mentoring

Our mission is to offer opportunities and resources for every generation of doers, makers, movers and shakers.

Conscious Sourcing & Product

Our mission is to make better choices through our products and practices.
Learn More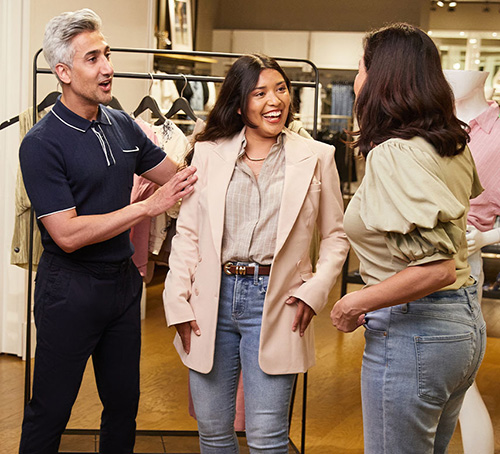 EXPRESS YOURSELF
"I feel that I can make a difference and share ideas knowing my voice is heard and respected around the table."
—Amanda C., Director of Performance Marketing, Loyalty and Owned Channels
EXPRESS YOURSELF
"We are encouraged to show up authentically and be yourself."
—Jamie B., HR Business Partner
EXPRESS TOGETHER
"What makes our company a great place to work is our spirit of volunteerism."
—Eric M., Solutions Architect
EXPRESS TOGETHER
"The people are what make our Company. I believe that you have to enjoy what you're doing, but you also have to enjoy who you're working with."
—Kelly G., Manager of Marketing Operations
EXPRESS LOCATIONS
Whether it's Columbus or Costa Rica, Express has many locations to choose from.
Search Jobs By Location